5 Tips for Flying Back Pain Free
If you're like most people with back pain, you dread the thought of a long flight.
But sometimes plane trips are unavoidable, so here are 5 tips for flying back pain free:
See Lower Back Pain Symptoms, Diagnosis, and Treatment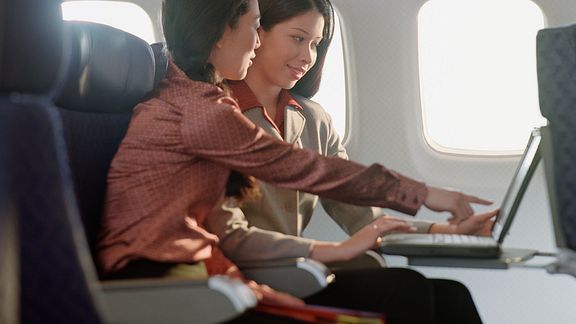 Sitting can cause pain from lower back muscle strain to flare-up.
Read: Pulled Back Muscle and Lower Back Strain
1. Move around regularly
Sitting in the same position for a prolonged period puts a great deal of stress on your lumbar spine (lower back). To minimize the impact of this stress, get up to walk and stretch your back every 20 to 30 minutes.

See Stretching for Back Pain Relief

To avoid any confusion, bring a doctor's note and alert the crew prior to boarding that you have a back condition and will need to move around. It is also helpful to make your way to the back of the plane to minimize disruptions.

See Diagnosing Lower Back Pain
2. Schedule smart
Booking a flight at a time of day when the plane is less likely to be full will make it easier for you to get up and move around regularly. Additionally, with no one sitting next to you it will be easier to move and stretch while remaining in a sitting position, and to change sitting positions as needed.

Watch: Seated Chair Hamstring Stretch for Low Back Pain Relief Video

It will also be easier to retrieve your belongings from under the seat in front of you without twisting and straining your lower back.

Watch: Lower Back Strain Video

As a general rule, flights that arrive between 6 and 7 a.m., as well as 1 and 2 p.m., are likely to be less full.
3. Support your spine
Bring a back roll or ask for extra pillows to put behind your back to help minimize slouching. Over the course of several hours, this can prevent significant pressure on your lumbar spine and associated pain.

See Different Types of Pillows

If you are on the shorter side, bring something to prop up your feet to keep your knees at a right angle. You may also want to splurge for a first-class or business-class seat.

4. Bring heat and/or cold therapy
When you first sit down in your seat, applying heat therapy can help help loosen up your muscles and minimize stiffness. After a few hours, applying cold therapy can help cool pain and inflammation provoked by excessive sitting.

See Heat Therapy Cold Therapy

To help avoid issues with security, you can bring small plastic bags to fill with ice at the airport. Additionally, you can purchase disposable heat wraps that deliver low-level heat over the course of several hours.

See Benefits of Heat Therapy for Lower Back Pain
5. Engage your mind
It seems too simple, but specific imagery techniques can help reduce your experience of lower back pain while flying.

See 11 Chronic Pain Control Techniques

One simple technique you can try is mental anesthesia. All you need to do is picture an injection of numbing anesthetic (like Novocain) going into your lower back. Additionally, you can imagine a soothing and cooling ice pack being placed onto your lower back.

See Chronic Pain Coping Techniques - Pain Managemen

I hope all of the above advice will help keep your back healthy and happy on your next flight.
Learn more:
Ice Massage for Back Pain Relief
Easy Exercise Program for Low Back Pain Relief